At Alternatives our expertise is customer centric talent. We connect with precision, professionals with marketing, digital, data and customer expertise, from executive to director level, who are best placed to respond to these challenges. Further ignited by the gig economy, the way in which we work is also changing. And so we've developed a diverse range of talent solutions, from full-time placements to short term contractors and consultants, to give you access to screened, in-demand talent, on demand.
We provide a diverse range of talent solutions, to allow you access in-demand talent, on demand.
To get more information on how we work CLICK HERE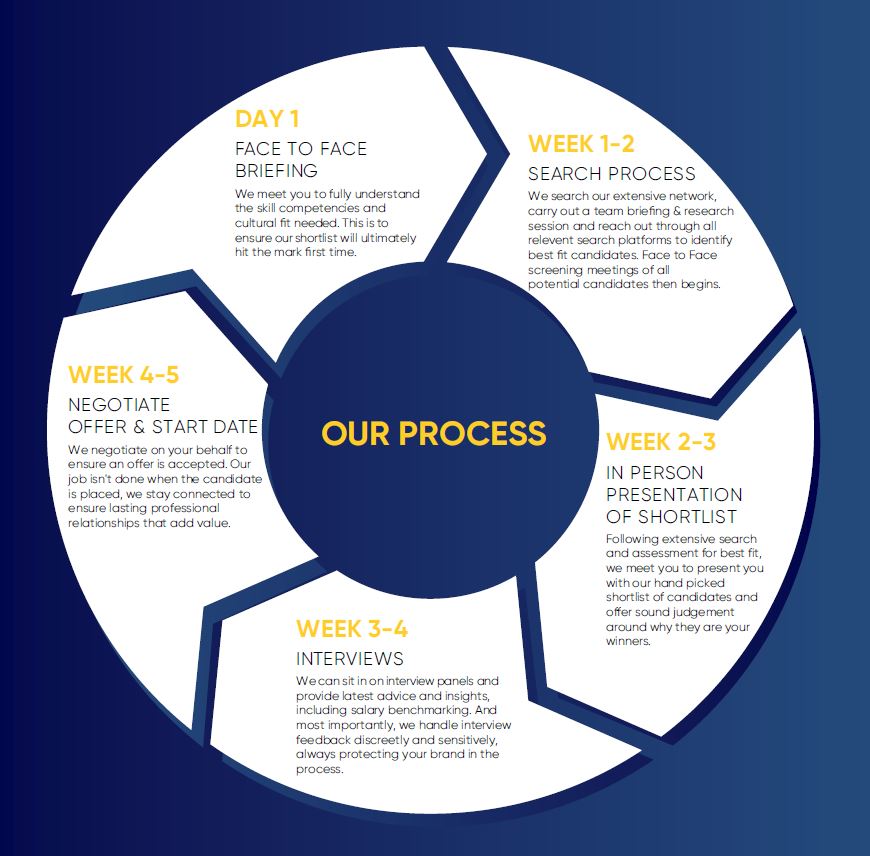 "I have worked with Sandra Lawler for a number of years now and believe that the flexible business model they offer for talent in the commercial and marketing disciplines is exceptional. The Alternatives team have an in-depth understanding of today's business needs which give them the edge when finding us the right people to drive us forward."

Flexible business model second to none

I believe they are uniquely positioned in the Irish market – they provide support, advice and insight into how best to resource and respond to the marketing and commercial issues facing Irish businesses today.

Alternatives are uniquely positioned in the Irish market

Thank you so much for your help and support in finding a new position. Your personal care and attention sets Alternatives head and shoulders above any other agency (I really mean that)."

Personal care and attention

Alternatives have always gone the extra mile to support me throughout my career. They have always taken a real interest in me and my success and I know of no other agency that makes such an effort to keep in touch & really know their candidates. When an opportunity came up to really step change my career, she was far more than a recruiter for me, she was an advisor, coach and my greatest advocate. Thank you!

They went the extra mile

From my initial meeting with Faye, she understood exactly what my requirements were. I had limited experience of recruiting staff and I relied heavily on her advice and expertise. She found the ideal candidate for us, not just in terms of the role but from the perspective of fitting in with the other team members and the culture of the organisation. I will absolutely use Alternatives for any future recruitment needs.

Recommending Faye

Alternatives were a fantastic agency to work with. They took both my personality and professional experience into account and placed me in an ideal position. Lauren was a pleasure to work with; Attentive, professional and always available to field queries.

Recommending Lauren

I cannot recommend Alternatives services enough; they really are a unique, boutique style recruitment firm who put you first and want to achieve the best for you. Their services and support before, during and after I accepted the (data) role has proven that they show a fantastic duty of care for their clients and want to ensure that they have made the correct decision in their career path.

I cannot recommend Alternatives enough

Alternatives are the best recruitment agency I've ever dealt with. My business manager was fantastic to work with. She made the effort to listen to me and understand my strengths and in no time at all managed to secure me one strong interview with an amazing company that I would happily work with. She was quick to understand the kind of role I was looking for and found the perfect job for me

Alternatives fantastic to work with

Sub Title Test 2

She has been instrumental in enabling me to realise my career goals. From explaining to her what I was looking for in my next move, she proactively went to market to seed my capabilities with prospective companies and ultimately found me exactly what I was looking for. Throughout the entire process she was very encouraging, responsive and I felt she had my back all along the journey. I wouldn't hesitate to recommend her to anyone looking for their next career move. Without her help, I know I would never have found the role I am now so happy to be in.

I wouldn't hesitate to recommend them

I found Faye incredibly personable and professional at all stages of my Alternatives experience. It felt like she had my best interests at heart and I found she understood my skillset and the kind of role I was suited to, more than any other recruiter I have worked with.

Faye had my best interests at heart

Alternatives have been a long standing, outstanding support to permanent tsb in addressing interim and full time recruitment needs. They go beyond any client brief so that they understand exactly what the client requires and why. In addition the team's market understanding and people networking is hugely strengthened through the great thought leadership initiatives that the team at Alternatives lead across the sector.

Alternatives go beyond any client brief

Adrian is one the best I have ever worked with. He has a good understanding of analytics and the data science area and the Irish talent market. He did a great job in understanding my requirements for my team and the type of people I was looking for. His candidates were pre-screened and of high quality from both technical and non-technical aspects. Adrian also helped me a lot in updating our internal HR recruitment team's understanding of analytics and the market situation, which resulted in changing their initial benchmark. He is a professional recruitment consultant and I would highly recommend him.

Best understanding of analytics and data science area

She has been an immense help to me throughout my search for a change in my career. She understands the market extremely well and provided me with a hugely insightful view on realistic options that I could consider. When I went into the process for a new role, she was always in touch with updates and provided great guidance throughout the interviews, clearly demonstrating her knowledge of her client. I would highly recommend her to anyone looking to make a move in their marketing career and I certainly intend to work with her again in relation to building my team.

Recommending

Having worked with Alternatives for almost 3 years now I can honestly say I have never had such a positive and rewarding work experience before. Not only have Alternatives continuously found me highly suitable, personally and professional fulfilling and creative marketing roles that have excited, challenged and fulfilled me - they have also nurtured my career, professional development and job satisfaction every step of the way. They are the only company I am aware of that exclusively cultivates, develops, and rewards marketing talent here in Ireland and they do so with the greatest of assurance and the kindest touch. Their care and attention is second to none. Each and every one of the staff in Alternatives goes above and beyond the ordinary level of duty to look after their candidates, support their work and prize them professionally and personally. They are true gems. I wouldn't hesitate, and indeed haven't hesitated, to recommended them far and wide and hope on a personal level to continue working for them for some time to come."

They nurtured my career, professional development and job satisfaction every step of the way...They are true gems.

The Alternatives team has been fantastic from day one; they really took the time to understand my individual strengths as a Marketing professional. For me, working on an interim assignment gives me access to top-rate companies, while allowing me to gain valuable experience from many different sectors. It is a refreshing change to witness first-hand a recruitment specialist who does not adopt a 'one size fits all' approach, and as a result, I feel they are a company who I will work with throughout my Marketing career.

Interim assignments give me access to top-rate companies

I'd highly recommend Alternatives in the data analytic space. They thoroughly understand their clients, the various roles in data analytics & how best to match the two… the follow-up & continuous support I've received have been exceptional. I couldn't recommend them enough.

I couldn't recommend them enough...

I just moved back from living and working abroad. I took an interim position with a leading blue chip company so that I could get a feel for the culture of the company before deciding to commit to a full time position. It's ideal. Thank you Alternatives.

Coming back to Ireland

The Alternatives team is made up of experienced marketers, working very closely with our own internal loyalty team to drive the loyalty programme. Outsourcing elements of the programme allowed us to avail of Alternatives invaluable advice and guidance in our strategic planning. The team are the driving force behind our partner relationships – both large and small and they are key to delivering a consistent, exciting and valued experience to our customers. We work closely with Alternatives on a daily basis as one team to ensure the key business objectives are met and of course that the customer is always kept at the heart of the programme.

Managed team solution met objectives flexibly

They delivered strong, unique candidates for my senior management roles in risk analytics. No easy ask! Always helpful and timely with updates, I recommend them to address your recruiting needs in this challenging market.

Unique candidates in risk analytics

Kristin did so much for me & my career by helping to place me in the right role with the right organisation…she took the stress out of the whole process for me by taking the time to answer any questions and by helping me to prepare for every interview. Nothing was too much trouble for Kristin and she went way beyond the call of duty for me. When I was successfully placed in the role she continued to follow up with me... I've recommended Kristin to a number of friends and I know they've had similarly excellent experiences.

Nothing was too much trouble for Kristen

Alternatives Elect have been true Executive Search partners to us. They bring their knowledge and understanding of the market, which is exceptional, but also the ability to quickly understand our business, what we need and how best to deliver the right solution whilst remaining cost efficient. The team work very closely with our business to ensure that they deliver professional and high quality service at all times. Our experience of them is that they are extremely thorough in their research and selection processes, ensuring that short listed candidates truly match the role in terms of fit, knowledge, experience and skills. In addition, candidates which have been appointed have provided very positive feedback in relation to how they feel they have been managed by the team. We would have no hesitation in recommending Alternatives Elect for their level of professionalism, tenacity and high performance.

Alternatives Elect have been true Executive Search partners to us

I have always found the Alternatives team a pleasure to work with over many years. They really get our culture and they provide us with great people.

They provide us with great people

I was impressed by Alternatives Group ability to map the market to identify the most suitable senior candidates for my requirements, to advise and challenge me in relation to candidates and to professionally manage the whole process to successful conclusion. I felt that they understood my needs and we worked together as partners throughout the process.

They advised and challenged me

We worked with Alternatives Elect to source a senior Strategy role on a truly global basis. This was a tough search process with a very exacting brief. We needed a partner with genuine international reach and an ability to convey our value proposition in a highly effective manner. Adrian was able to deliver against those requirements and was a pleasure to work with. He found us a select group of highly targeted candidates and we are delighted to have made a successful hire.

We needed a partner with genuine international reach

I came across Lauren when looking for a new role after returning from Australia last year. I met with a lot of different recruiters but felt that none of them paid heed to my job aspirations. Lauren not only took on board my past employment history but factored in what I had briefed her about my ideal position and future ambitions. Second to that Lauren stayed in contact even when the market was slow just to touch base which added a personal factor that no other recruiter had shown.

She factored in what I had briefed her about my ideal position and future ambitions

My thoughts on Alternatives and Adrian It was a really professional experience dealing with Alternatives, very open, honest and transparent about finding the right role to fit my career. Adrian was helpful throughout the interview process with invaluable guidance and assistance for success. He had great industry knowledge about what clients needs are and how a candidate's attributes fit into the organisational goals of a potential employer. He wasn't pushy in any way and had courage to feedback if a role is simply not suitable. Overall it was a refreshing experience with Alternatives. Outside the norm of the vast majority of agencies that I have engaged with over the years.

Invaluable guidance and assistance for success

In late 2017 Fáilte Ireland procured the services of Alternatives to recruit a Marketing Director. We found the experience to be a very positive one. The team in Alternatives worked to anticipate our needs, and brought a deep understanding of the marketing arena to bear on the process. Their professional approach and support throughout the process from both an organisation and candidate perspective brought a confidence to the whole engagement. I would have no hesitation in engaging the team in the future.

I would have no hesitation in engaging the team in the future

I will be sure to recommend Alternatives to anyone who will listen!